Travelling to Baku, Azerbaijan for Eurovision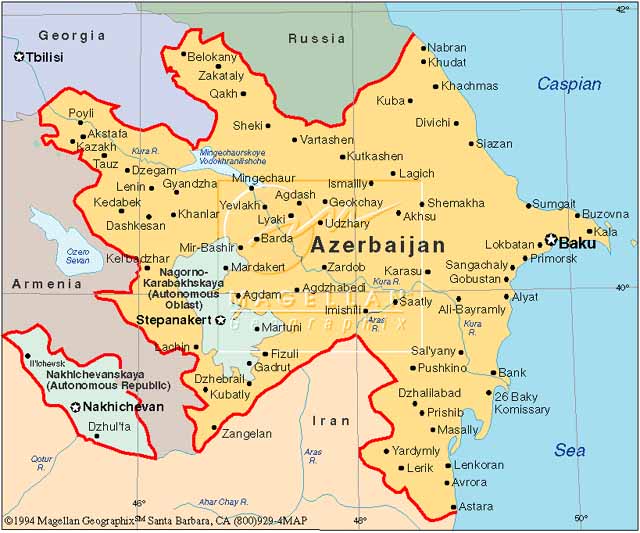 Now that John and Edward have SUCEEDED in becoming Ireland's representative for Eurovision 2012 in Baku, Azerbaijan that some of you may be thinking about attending.
This will be Azerbaijan's first time hosting the event and their approach to organising the contest is very different to what we've seen before. There's much more to think about when travelling to Azerbaijan than say, Italy (which was very nearly the case) so here's some information to help you:
Visas
You cannot enter Azerbaijan without getting a visa. These will be about €60. The Azeri Government has agreed that as long as you have a Eurovision ticket, you can get these upon arrival at any airport (although we think you can still get them in advance too). Check the visa requirements here so you have everything you need. Your passport must have at least 3 months left on it. Visa information can be found here.
Tickets
Tickets for Eurovision finals go on sale on Tuesday 28th February. No further details have been released yet. Last year prices final ranged from €89 to €189, took about 5 hours to get and then sold out fast. Semi-final tickets did not sell out and cost €29 - €119 but each year every country is different dependant on local prices.
There is also a jury final (final dress rehearsal) that may be on sale. Apart from this jury final you CANNOT get tickets to any other rehearsals. The arena this year is MUCH smaller and should sell out fast for all events. All will be sold online. Keep checking Eurovision.tv and Eurovision.az for news.
Hotels
The Azeri Government have block booked ALL hotels as there are not enough in Baku. You are currently not able to book any. These will be released on a certain date and are expected to sell out fast. Before the Azeri Government closed and cancelled existing bookings, hotels were costing about €300 per person per night!
They say that a variety of hotels will be made available in different classes and price ranges. The hotel site is here, and we think online booking will open up on the 1st of March and close on the 10th of April.
Flights
Baku is serviced by several airlines: Aeroflot, United Airlines, Lufthansa, Austrian Airlines, Aerosvit, Turkish Airlines, and British Airways. Cheapest flights from London or Dublin to Baku, which take about 10 hours, are currently about €570.
Eurovision Timetable
If it runs like last year and the year before, looking at Ireland's place in the draw, the following timetable may be about right, but all rehearsals have yet to be confirmed:

13 May - Rehearsals start
14 May - First rehearsal for Semifinal1
17 & 18 May - Second rehearsal for Semifinal 1
19 May - Opening Ceremony Red Carpet event / Mayor's Reception
21 May - Dress rehearsals 1 & 2 for Semifinal1
22 May - Dress rehearsal 3 and First Semi-Final
- IRELAND
24 May - Second Semi-Final
25 May - Dress rehearsals 1 & 2, & Jury Final
26 May - Dress rehearsal 3 & Grand Final
So there you go… and maybe The Eurovision Song Contest 2013 will be in Dublin.